The latest version of WordPress 4.8 "Evans", was released beginning of June. In this release, three new media widgets for images, audio, and video, an updated text widget that supports visual editing, an improvement on how to work with links in the editor, and an upgraded news section in the dashboard. Let's take a closer look!
New Media Widgets
The biggest additions to WordPress 4.8 are three brand new widgets as well as a big improvement to the existing text widget. While they might not look as a huge change, these widgets will make it much easier to quickly add different types of media to any widgetized area.
New Image Widget
New in WordPress 4.8 is the image widget which makes adding an image to a widget a much simpler task. Simply insert your image right within the widget settings. You can just drag and drop the image widget to a sidebar. Click on the 'Add image' button in the widget settings, and it will bring up the familiar WordPress media uploader. Once uploaded, click on the 'Add to widget' button, and you will be able to see the image in the widget preview.
New Video Widget
Very similar to the image widget is a new video widget. You can now add any video from the Media Library to a widgetized area. Current supported formats include .mp4, .m4v, .webm, .ogv, and .flv. If you click on "Edit Video" there is also an option to loop the video.
You can also use the insert URL feature to insert 3rd party hosted videos, such as YouTube or Vimeo. Make sure you have embeds enabled for this to work.
New Audio Widget
And then there is a new audio widget. Again similar to the video and image widgets, Audio widget allows you to easily add audio files to any Widgetized area. Just click on the 'Add audio' button to upload your audio file.
If you click on "Edit Audio" there is also an option to loop the audio.
The widget will nicely embed the audio file in a HTML5 audio player. It supports MP3, OGG, and WAV audio file formats.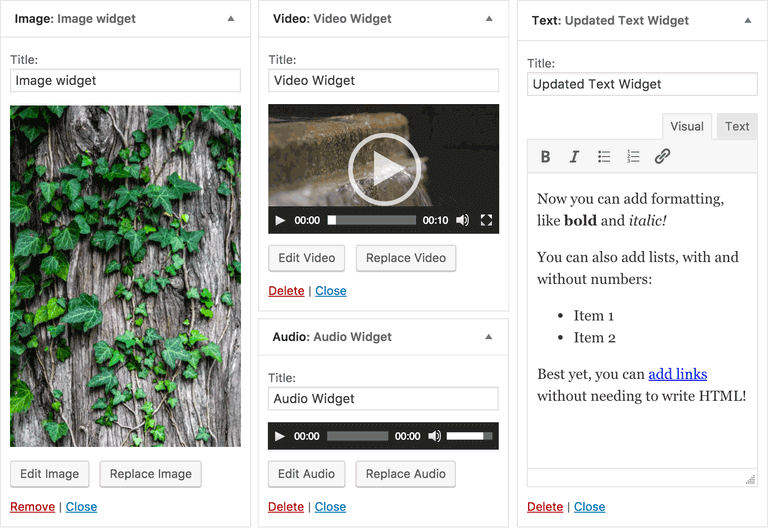 The visual editor now available on Text Widgets
In WordPress 4.8 the text widget is improved with (a simplified) visual editor. Previously you were only able to enter text or HTML. And as not everybody is familiar with HTML code, this limited things a little bit. But now you can easily format text using the WYSIWYG editor and use styles such as bold, italics, bullet lists, and the ability to add and edit hyperlinks.
Visual editor (link) improvements
Have you ever tried updating a link in the content editor, or the text around a link, and found you can't seem to edit it correctly? When you edit the text after the link, your new text also ends up linked. Or you edit the text in the link, but your text ends up outside of it. It wasn't a bug, but rather a small annoying thing every publisher had to deal with.
To help better resolve this issue WordPress 4.8 have what they call link boundaries. Links now have a blue border around them when they are selected.
Updated WordPress News and Events in the Dashboard
WordPress 4.8 also introduced the new 'WordPress News and Events' dashboard widget. It appears on the dashboard screen of your WordPress admin area and displays WordPress news as well as WordPress events near your location.
You can also change the location manually to see events near you or from any other place in the world.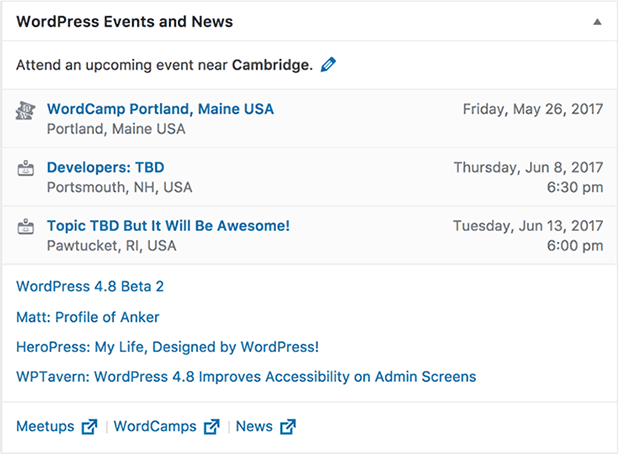 Under the hood
More Happiness for WordPress developers.
More Accessible Admin Panel Headings – The core-team developers have made some accessibility improvements to the header area in the dashboard. New CSS rules mean extraneous content (like "Add New" links) no longer need to be included in admin-area headings. These panel headings improve the experience for people using assistive technologies.
Removal of Embedding Support for WMV and WMA – As fewer and fewer browsers support Silverlight, WMV and WMA files which require that Silverlight is installed are being removed from core support. Files will still display as a download link, but will no longer be embedded automatically.
New Multisite Changes and Functions – New capabilities have been introduced for more fine-grained control of access to specific areas for multisite sites.
Text-Editor JavaScript API – With the addition of TinyMCE to the text widget in 4.8 comes a new JavaScript API for instantiating the editor after page load. This can be used to add an editor instance to any text area, and customize it with buttons and functions.
Media Widgets API – Along with the introduction of the new widgets developers can now easily use the Media Widget APIs to hook into these areas and opens up possibilities for even more media widgets (like galleries or playlists) in the future.
Customizer sidebar width is now variable – Rejoice! New responsive breakpoints have been added to the customizer sidebar to make it wider on high-resolution screens. Customizer controls should use percentage-based widths instead of pixels.
Save
Save
Save