WordPress 6.0 is the second major release of 2022 and includes over 500 enhancements and 400 bug fixes. This upgrade will make content creation and site-building with WordPress even better. Most of the changes for version 6.0 are in the block editor and full site editing.

Before You Update: Don't Forget to Run a Backup Of Your Site!
Before doing any major updates to the WordPress core, make sure you backup your website. We recommend making a complete backup that includes your WordPress database, WordPress files, themes, plugins, media library, etc. before proceeding with the update.
As a client of Good Websites, you don't have to worry about these things. We manage all upgrades and backups for you as part of the WordPress Maintenance plan.
What stands out
The feature that stands out the most for me is the improved list view. The list view keeps you sane when building your page and editing your content in the block editor. If you've ever tried selecting or moving nested blocks, you know that the list view is the only practical way to do this. Drag-and-drop is almost impossible directly in the block editor. The list view solves this problem, and it's even easier with the new improvements in version 6.0.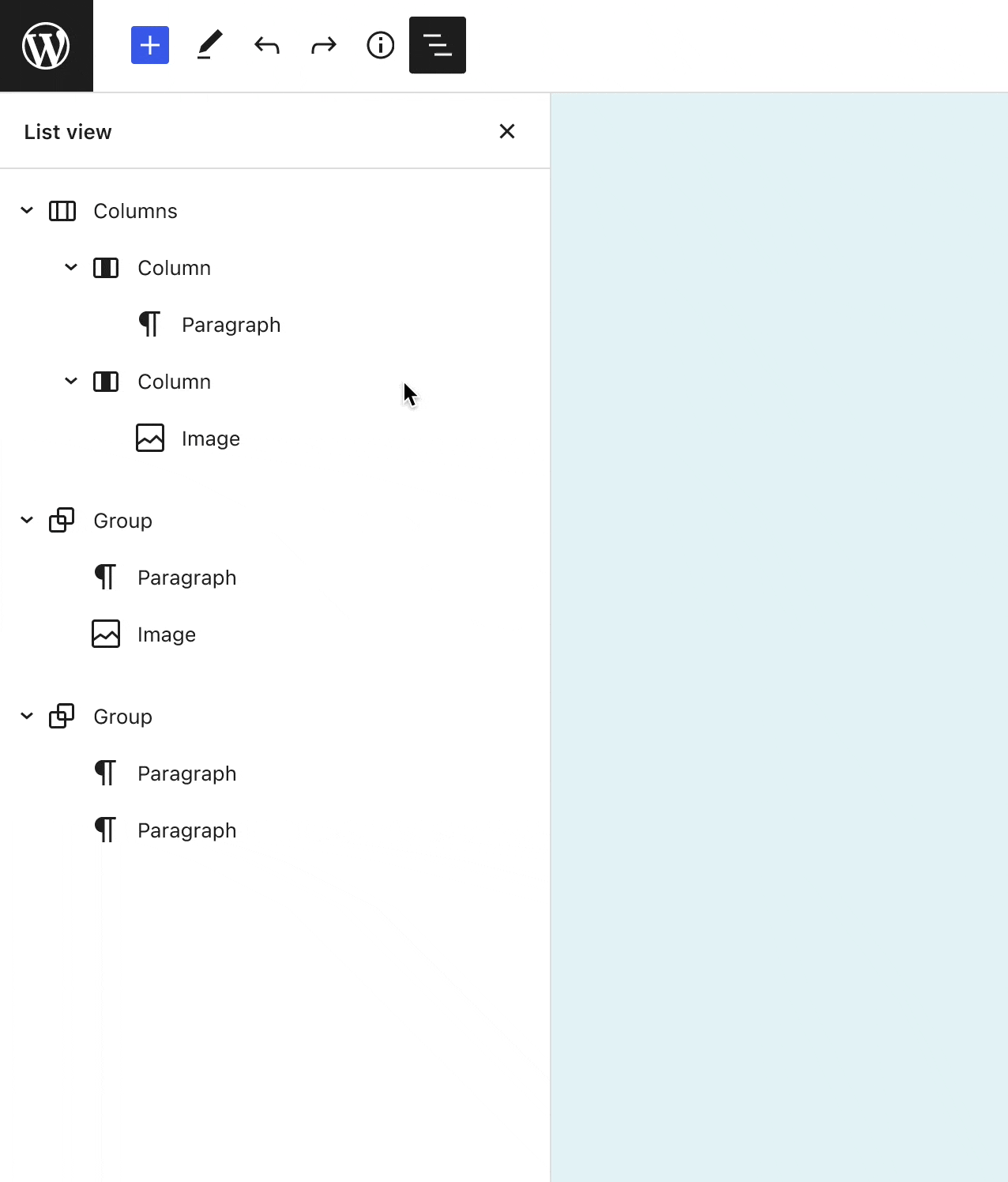 Block editor improvements
Block locking controls
Each block now includes a lock option to prevent it from removing or changing its position.
Select text across multiple blocks
Now you can select and copy text that spans multiple WordPress blocks more smoothly.
Select multiple blocks in list view
As I've said before, list view keeps getting better. New keyboard shortcuts allow you to select multiple blocks and then drag and drop them to move them around.
List view is collapsed by default
List View is now collapsed by default and automatically expands to the current selection whenever you select a block.
New colour panel and improved colour picker
To reduce clutter on the design tools sidebar and improve the user experience, WordPress 6.0 comes with a new dropdown-based colour picker.
Block styles previews
When previewing block styles, the style's name now appears above the preview. This again reduces clutter in the sidebar and moves attention to the name of each block style.
Styles are maintained when blocks are transformed
In the block editor, existing styles, like colour and font size, are retained when transforming blocks (for example, from a paragraph block to a list block).
New buttons preserve styling from adjacent buttons
When you insert a new button block, it will automatically retain the styling from adjacent buttons.
Spacing for gallery block images
You can now adjust the spacing between the gallery images.
Choose the opacity of the separator block
The colour options in the separator block have now gradients and opacity control.
Border for columns block
You can now add a border around the column block.
New blocks
WordPress 6.0 includes several new blocks, some of which are more designed to be used with Full Site Editing templates.
Stack block
The new stack block allows you to stack your content vertically or horizontally. This allows you to be more creative in creating responsive layouts.
Comments Query Loop block
The Post Comments block is replaced with the new Comment Query Loop block, which comes with sub-blocks like comment author name, avatar, comment content, edit link, and more.
Other new blocks
Read more block
No results in query loop
Post Author Biography
Avatar
Full Site Editing improvements
Version 5.9 introduced Full Site Editing to make various website elements (e.g. header, footer, etc.) customizable with the block editor. WordPress 6.0 further improves the full site editing with new site-wide blocks, editable templates, and more patterns.
Note: You'll need a theme that supports full-site editing. Full-site editing is still in beta and needs more work to compete with custom theme builder solutions.
Under the hood
Performance improvements
The WordPress Performance team also included numerous improvements to help improve the performance of WordPress websites with over 10,000 users, improve the handling of multiple data taxonomies within WordPress, and add new additions to the WordPress caching API.
Accessibility Improvements
Along with performance improvements, lots of work has gone into improving accessibility.
The post title will be used as the ALT text for featured images if no other ALT text is provided
Better tabbing in blocks with placeholder elements
Search announcements in block search
Read description for blocks with a placeholder setup
Admin bar text labels will be readable by screen readers on smaller screens
More descriptive announcements for screen readers when a draft is saved
Other improvements for WordPress Developers
WordPress 6.0 comes with several important changes for developers.
Webfonts API will provide theme authors with a more efficient way to manage local fonts via PHP or theme.json.
An API to prevent blocks from appearing on the Widgets screen. (#55301)
Make get_the_author_link pluggable. (#51859)
Improved sticky post query. (#36907)
New filter edit_custom_thumbnail_sizes to work with individual image sizes. (#28277)