This release introduces new writing and design tools, giving you more powerful customisation options in the editor and over 100 performance improvements.
Before You Update: Don't Forget to Run a Backup Of Your Site!
Before making any major updates to the WordPress core, back up your website. We recommend making a complete backup that includes your WordPress database, WordPress files, themes, plugins, media library, etc., before proceeding with the update.
As a client of Good Websites, you don't have to worry about these things. We manage all upgrades and backups for you as part of the WordPress Maintenance plan.
Lightbox
WordPress now supports loading images in a so-called lightbox. It's a simple 'expand on click' feature that allows visitors to expand images to be full-screen without leaving the page. You can enable the lightbox on a per-image basis or site-wide under Styles » Blocks » Images. This feature is still relatively new and basic. For instance, if you add an image gallery, you must set it for each image. I'm expecting more developments on this feature with upcoming upgrades.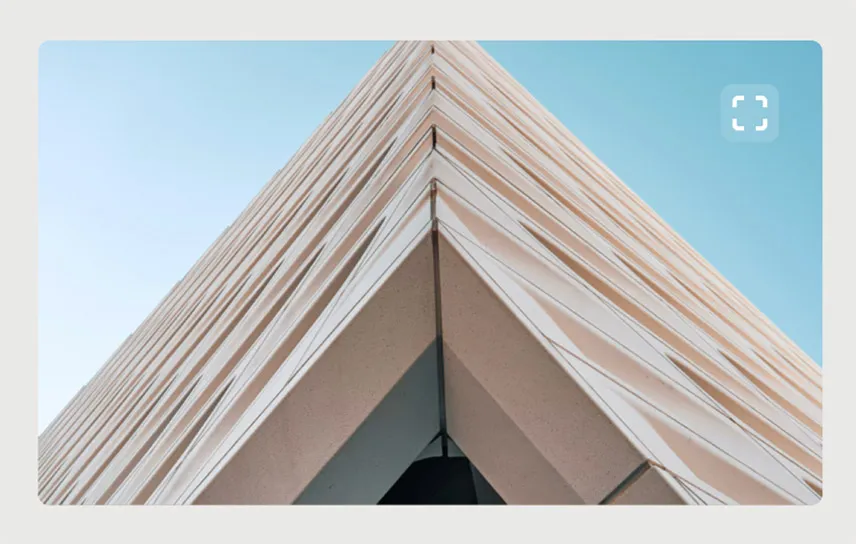 Redesigned Command Palette
The Command Palette has been designed in 6.4 to accommodate a growing catalogue of commands available to help you perform various tasks more efficiently. You can access the tool inside the Site Editor and the Post Editor, with specific contextual command options for saving time across both editing experiences.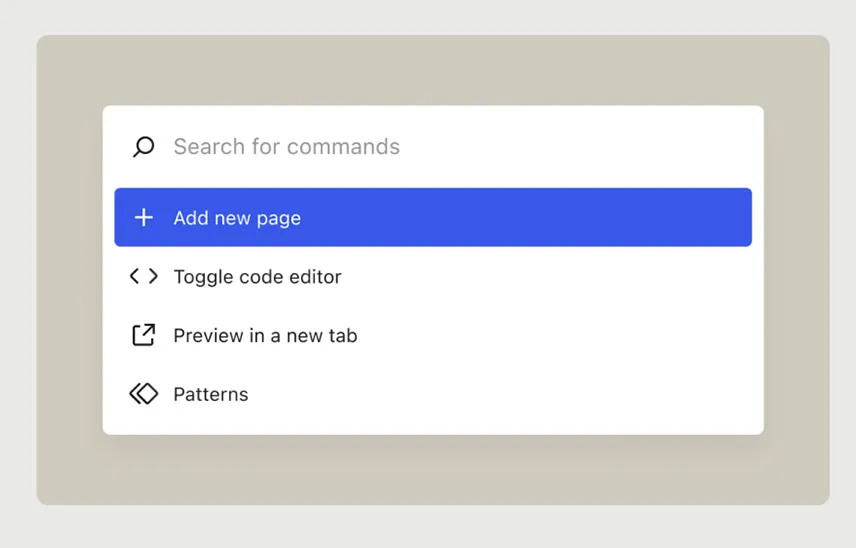 List View Improvements
The List View continues to get improvements to make it more helpful in getting an overview of your page content at a glance. WordPress 6.4 adds media previews for the Gallery and Image blocks. It also allows you to assign custom names for Group blocks visible in the List View.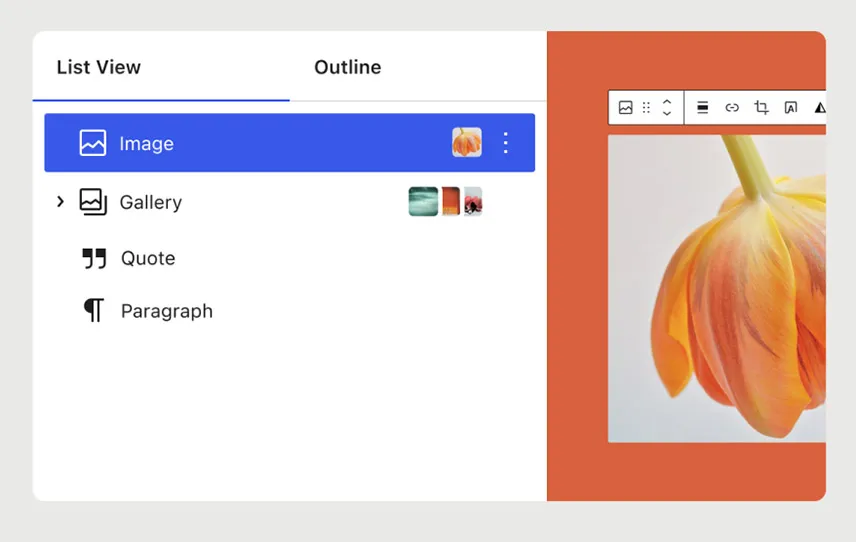 Categorising Block Patterns
Block patterns are a collection of blocks you can create, save and reuse across your WordPress website. You can now add categories when creating a new pattern.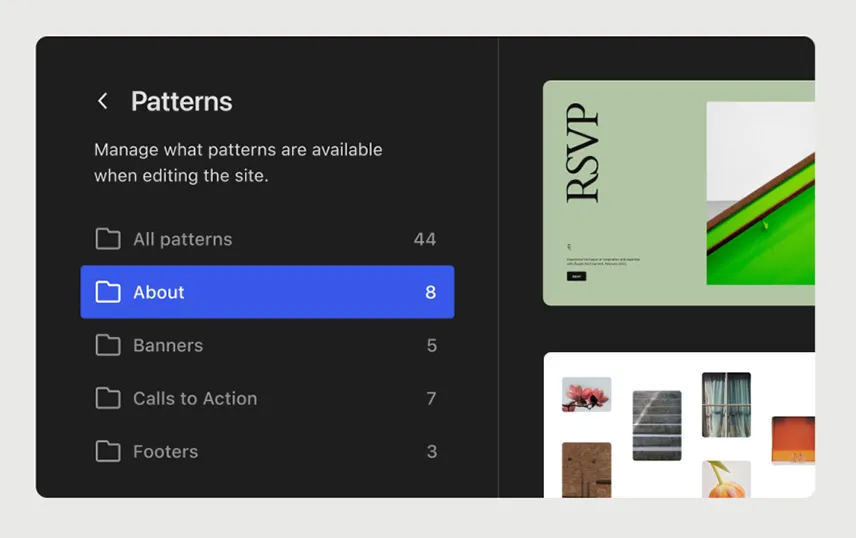 Orientation Text
With the release of WordPress 6.4, you'll find some fun new creative tools, such as the ability to orient your text vertically. This new typography tool allows you to create designs outside the box.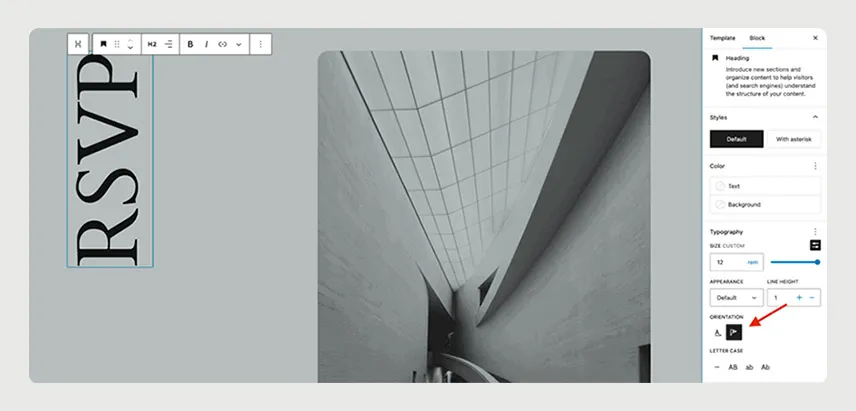 Background Images for Group Block
Grouping blocks is the easiest way to create different layout sections. Although you could already set a background colour to Group Blocks, adding a background image wasn't possible. WordPress 6.4 now allows you to set a background image for any group block.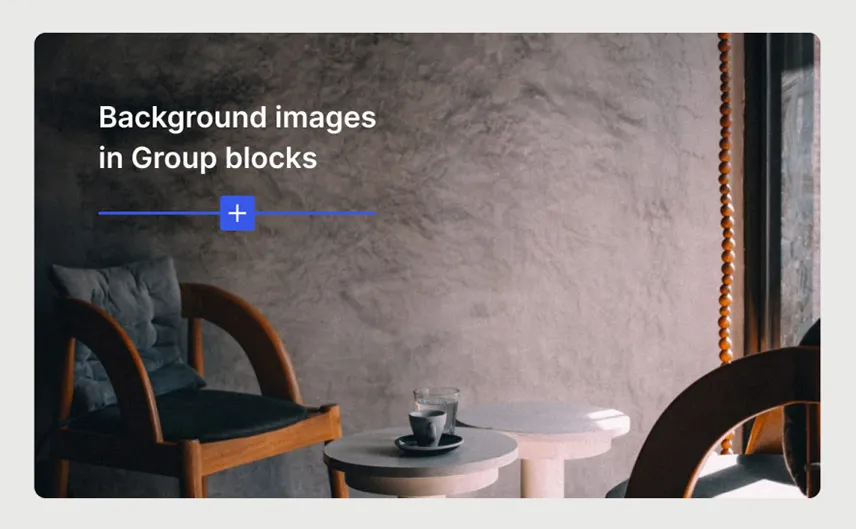 Open in New Tab in Link Preview
WordPress 6.3's link option 'Open in new tab' was relocated under the Advanced toggle. It required a few extra clicks to set links open in a new tab. Many users often use this feature, so the core team added a new checkbox in the link preview modal to set the link option to open in a new tab without going into the advanced options.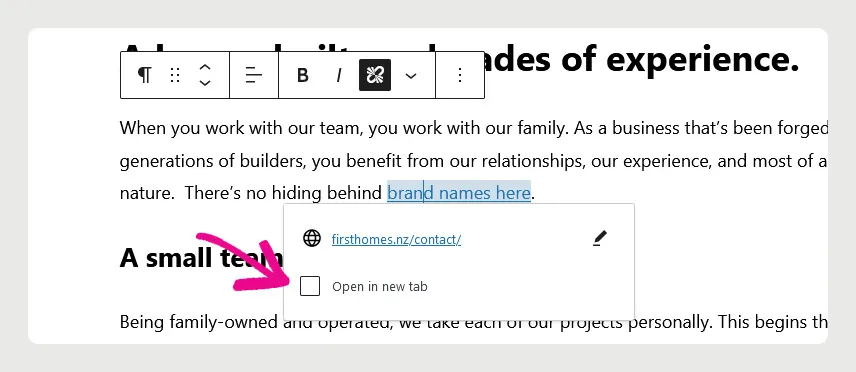 Twenty Twenty-Four Default WordPress Theme
WordPress 6.4 ships with a brand new default theme, Twenty Twenty-Four. As always, the default WordPress themes are designed to be multi-purpose and suitable for a wide range of websites, including blogs, businesses, and portfolios.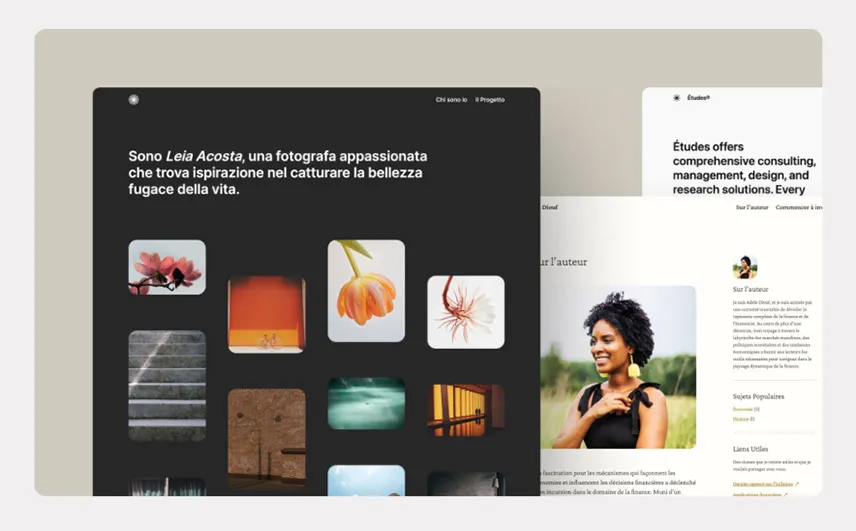 Performance Improvements
The performance improvements in WordPress 6.4 include better template loading for themes and the usage of new script loading strategies. WordPress 6.4 improves the server response time by ~4% over version 6.3.2. This, combined with additional optimizations, leads to improvements to the so-called Largest Contentful Paint (LCP)—an important ranking factor for Google. This means better page speed performance and a better user experience.
Under The Hood
WordPress 6.4 also includes several changes intended for WordPress developers. Here are some of the under-the-hood changes.
New admin notice functions are introduced. (Details)
TEMPLATEPATH and STYLESHEETPATH constants are deprecated. (#18298)
Attachment Pages Disabled By Default
Framework to add revisions for post meta in WordPress. (#20564)
Theme developers can configure their own default min and max viewport widths for calculating fluid font sizes. (#59048)
A block hook field is added to block types. Developers can specify a location where a block will be inserted, such as before or after a template. Users can then reposition the blocks after insertion using the editor tools.(#59346)