Welcome to the third and last major release of 2022. This new release contains significant updates to the full site editing and the block editor. Let's take a closer look at what version 6.1 brings to the table!

Before You Update: Don't Forget to Run a Backup Of Your Site!
Before doing any major updates to the WordPress core, make sure you backup your website. We recommend making a complete backup that includes your WordPress database, WordPress files, themes, plugins, media library, etc. before proceeding with the update.
As a client of Good Websites, you don't have to worry about these things. We manage all upgrades and backups for you as part of the WordPress Maintenance plan.
More control over the global style preset
The global style preset allows you to easily switch up a website's look and feel. In just a few clicks, you can change the colour palette of the entire website or change the default font, size, and colour of your text and links.
WordPress 6.1 brings even more customisation to the global style interface. You can now determine presets for:
the typography for headings and buttons
the default colours of headings and buttons
the width of the main content area
the block spacing in the global layout
All of this is perfect for design consistency. You can even define the default appearance for specific blocks (e.g. style text in 'list' blocks always in the colour green).
Please note that the global style feature is only available on block themes, so you won't see this option if you're running a theme that doesn't support full-site editing.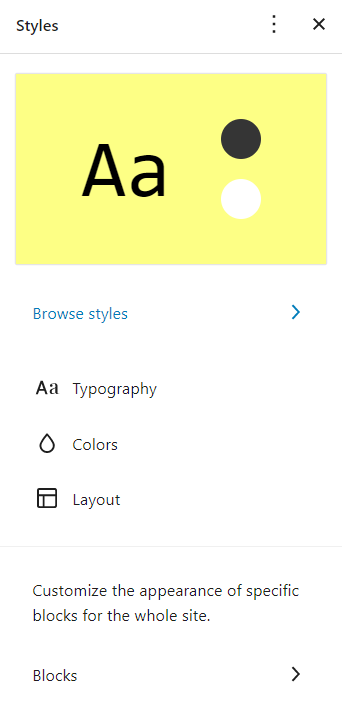 Twenty Twenty-Three default theme
WordPress 6.1 comes with a brand new default theme, Twenty Twenty-Three. This theme features a minimalist design that looks more like a blank canvas and encourages you to bring your creativity to the theme.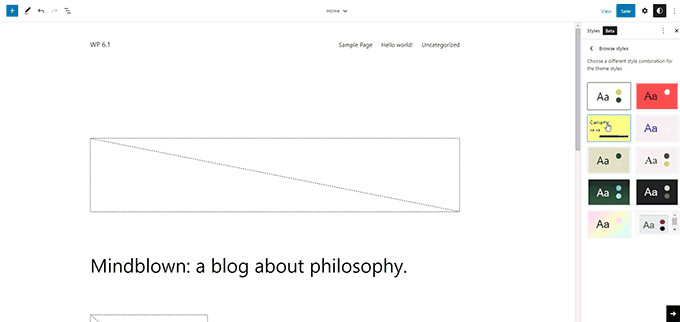 You can choose from ten style variations inside the Site Editor. All of these styles are fully customisable using the site editor. Each of these variations is distinct from one another with its own colour palette, typography, and layout.
Editor Design Refinements
Various blocks have improved design tools, allowing you to get finer control of your page's design and layout.
Dimension control in more blocks
WordPress 6.1 brings more dimension control to blocks. In the sidebar of the post editor for certain blocks, you've got a new section called 'dimensions'. So, for example, you can now control the padding of the paragraph and group blocks. Or for the column and gallery block, it's possible to control the spacing between elements in these blocks.
Border control improvements
Version 6.1 also adds border support for more blocks and allows users to adjust the top, bottom, left, and right borders separately.
Inner block editing capability
Inner block editing is a new feature for the quote and list blocks. It's now much easier to edit elements within these blocks separately. Let's say you want to move a list item up or down. All you need to do is click on that list item, which prompts the toolbar to appear, and click on the arrow to move it up or down the list.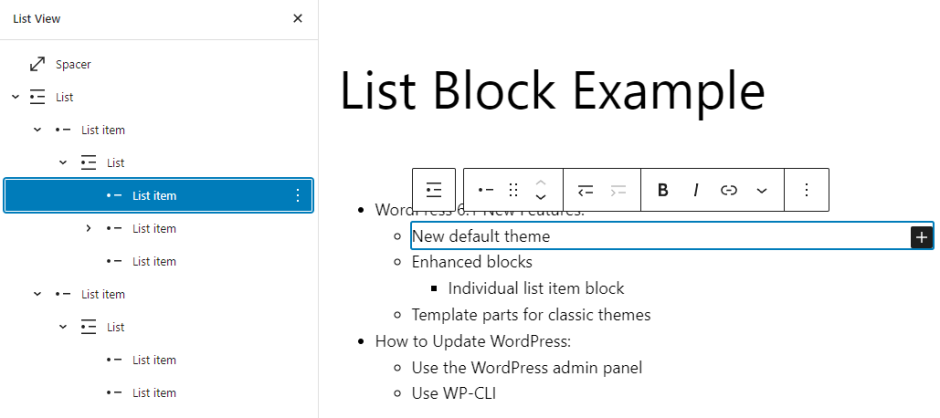 Status & Visibility Panel Renamed to Summary
The Status & visibility section of the post editor is now called Summary. The post's permalink and template settings are now within this section.
Site Icon Replaces the WordPress Logo
If you have set the site icon for your website, it will be used as the View Posts button in the top left corner of the screen.
Updated Preview Button
The block editor's Preview button is now labelled View, but still with the same functionality. It lets you choose between the editor's desktop, tablet, and mobile views and open the preview in a new tab.
Updated Editor Details
A new metric has been added to the editor Details menu. Now you can see the time to read information along with the word and character counts. This way, you can better estimate how long the content you're writing will be and how long it will take to read it.
Performance improvements
This release brings some significant performance improvements to your WordPress website. WordPress is getting faster and more efficient, which is beneficial for Search Engine Optimisation since search engines tend to favour fast websites.
Under the Hood Changes in WordPress 6.1
WordPress 6.1 comes with several important changes for developers.
Massive Improvement To WP_Query Performance
Classic themes can now use template parts
Fluid typography allows theme developers to dynamically adjust font sizes.
Post types can now have their own starter patterns.
Filters to hook into theme.json data.
New is_login() function to determine if a page is the login screen.