WordPress 4.1 was released last week. This new release contains several improvements such as a new default theme, an improved distraction free writing experience, and plugin recommendations.
Distraction-free writing
Sometimes, you just need to concentrate on putting your thoughts into words. Try turning on the improved distraction-free writing mode. When you start typing, all the distractions will fade away, letting you focus solely on your writing. All your editing tools instantly return when you need them.
The new distraction free writing mode makes it much simpler to switch back and forth between normal writing mode and distraction free editor.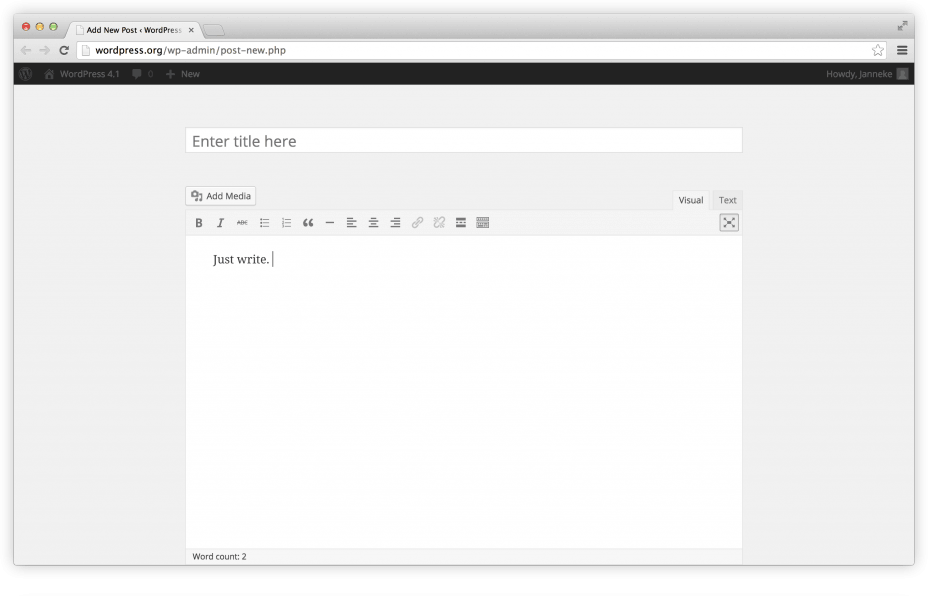 Although distraction free writing was around in WordPress since the release of version 3.2 in 2011.
Now, the button itself is persistent, and the experience of writing distraction free doesn't enter a new screen, but rather fade away the distractions of the default editor
The left admin seamlessly floats away, as do the meta-boxes to the right of and below the editor. The editor itself remains, versus using a modified editor like before.
Click on the distraction free button on the screen to enable it.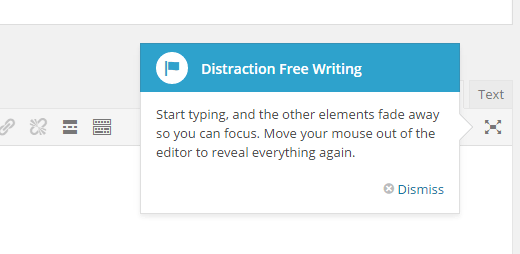 Inline Image Editing
With 4.1 you will be able to click on an image and instantly see alignment options. The pencil button is still there which will open the image into a popup where you can further edit an image.

Install Language Packs from the Admin Area
WordPress 4.0 introduced language selection during the installation process. WordPress 4.1 will make it even easier, as you're now able to change the language from the Admin area. Simply select the language you want to install from the drop-down menu and save settings. WordPress will automatically download and install the language packs for you.
Plugin recommendations
With a tab for recommended plugins, you can now see plugin recommendations based on plugins already installed and plugins other sites have installed. Recommended plugins are replacing the former popular plugins tab.
Twenty Fifteen – The New Default Theme
WordPress 4.1 ships with Twenty Fifteen a new default blog theme. Twenty Fifteen is a simple blog theme with emphasis on typography.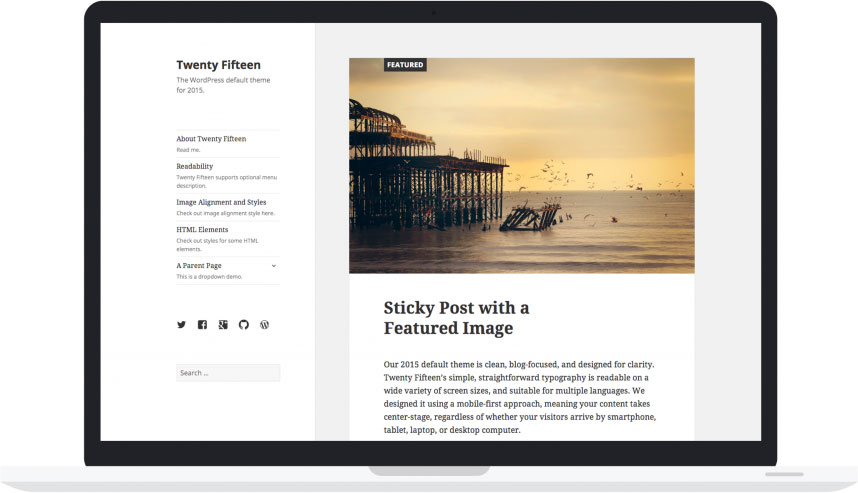 Log out everywhere
If you've ever worried you forgot to sign out from a shared computer, you can now go to your profile and log out everywhere. There is a new button that says "Log Out of All Other Sessions," and also tells you if you are logged in at more than one location.

oEmbed Support Added For Vine
Embedding videos from Vine is as simple as pasting a URL onto its own line in a post. See the full list of supported embeds.
---
Under the Hood
Complex Queries – Metadata, date, and term queries now support advanced conditional logic, like nested clauses and multiple operators — A AND ( B OR C ).
Customizer API – The customizer now supports conditionally showing panels and sections based on the page being previewed.
<title> tags in themes – add_theme_support( 'title-tag' ) tells WordPress to handle the complexities of document titles.
Developer Reference – Continued improvements to inline code documentation have made the developer reference more complete than ever.
New Dashicons – WordPress 4.1 includes 20 new fresh and clean icons. See the complete overview of all Dashicons icons.