WordPress 5.7 has officially released as of March 9, 2021. It is the first of three major WordPress core releases planned for this year. WordPress 5.7 introduces drag-and-drop for blocks and patterns, a streamlined admin colour palette, and one-click migration from HTTP to HTTPS. This latest release also introduces many editor improvements and great features, including lazy-loading iframes, login interface updates, reset password links, and a vast number of bug fixes, and more.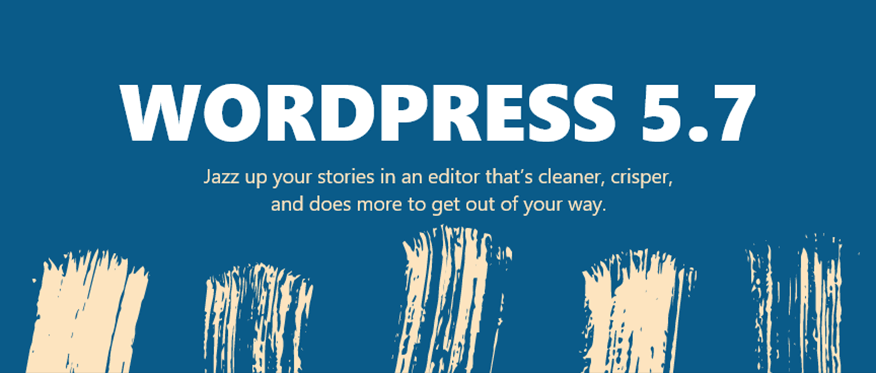 Before You Update: Don't Forget to Run a Backup Of Your Site!
Before doing any major updates of the WordPress core, make sure you backup your website. We recommend making a complete backup that includes your WordPress database, WordPress files, themes, plugins, media library, etc. before proceeding with the update.
As a client of Good Websites, you don't have to worry about these things. We manage all upgrades and backups for you as part of the WordPress Maintenance plan.
---
New WordPress admin dashboard colour palette
Up until now, WordPress came with a limited set of colour schemes in the backend. Also, introducing custom colour schemes in the admin was quite tricky. Now WordPress is implementing a system that makes it much easier to add custom admin colours. The new colour palette collapses all of the WordPress source code colours down to 7 core colours with a range of different 56 shades.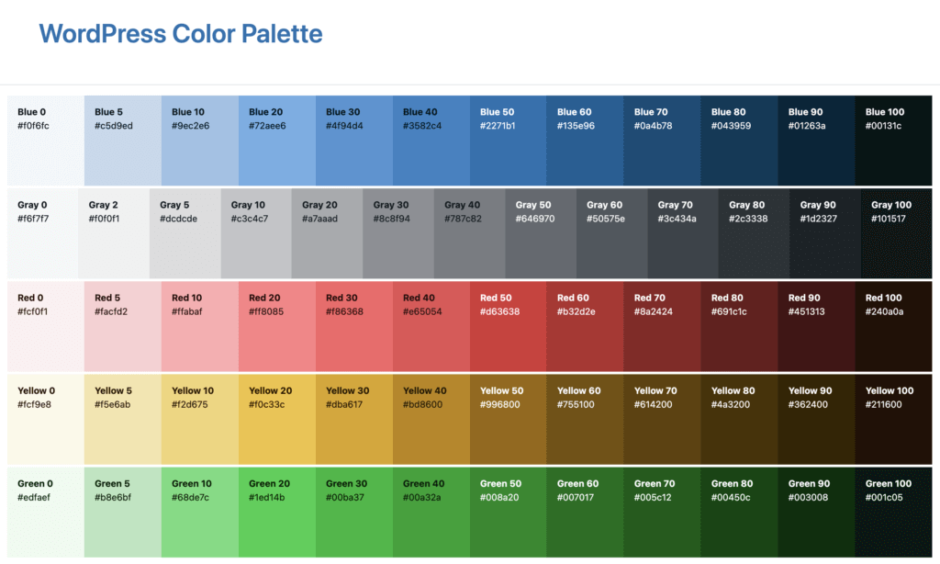 Upgrade from HTTP to HTTPS in a single click
Although your website should already be running on HTTPS, now, switching a site from HTTP to HTTPS is a one-click action. WordPress will automatically update all database URLs when you make the switch. The new WordPress HTTPS detection and migration features are available from the Tools > Site Health page.

Lazy-load your iFrames
Now it's simple to let iframes lazy-load. By default, WordPress will add a loading= "lazy" attribute to iframe tags when both width and height are specified. With the 5.5 release, WordPress introduced lazy loading for images. Lazy loading means that an image or element on your site doesn't load until it appears in your visitor's browser. This improves the loading time for a page and, thus, your website's speed. This Lazy loading feature is now also possible for all embeds that use iframes (a YouTube video you embed on your page, for example).
Password reset emails/links
WordPress 5.7 introduces a new feature that makes it easier for administrator users to send a reset password link to users. You'll find the new Send password reset link from the Users > All Users page. Once you click the new Send password reset link beneath the user's name, they'll receive an email with a link to reset their password. This does not directly change the user's password; instead, it sends them a password reset link via email to reset their password on their own.

Reset password screen
The Reset Password screen now has two buttons: Generate Password and Save Password. The first button generates a new strong password at each click, while the second button saves the password. Previously, it could be unclear that the displayed password is only a suggested password and should be saved by clicking the Reset Password button.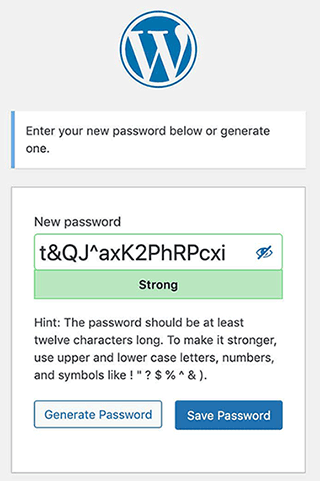 Drag and Drop blocks
WordPress 5.7 will allow you now to simply drag and drop a block from the 'Add new block' (+) inserter into your content area. This makes working with the block editor an even more seamless experience.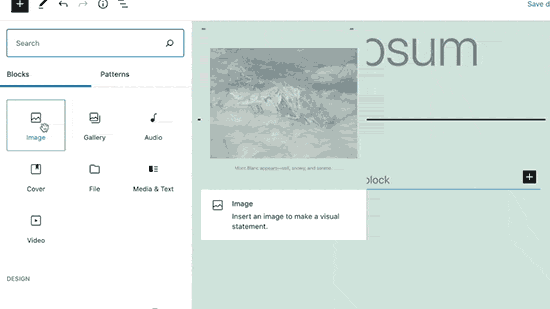 Custom social icon colours and sizes
Now you can customize the colours of your social icons using the social icons block. You'll see a new option for icon colour and icon background colour from the block settings menu.
You can also customize your social icons' size using the new option in the block toolbar to small, normal, large or huge.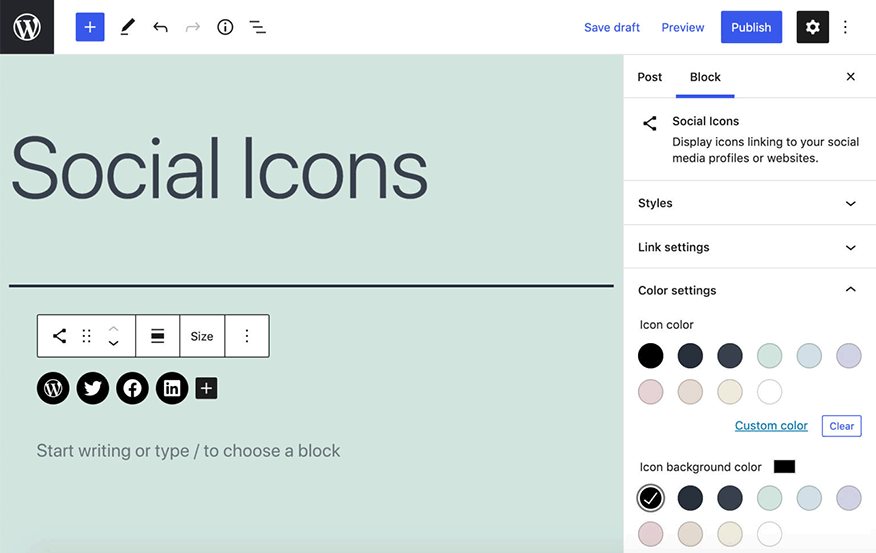 Font size support
WordPress 5.7 adds font size support for both List and Code blocks.
Need a mega list? Or a tiny one? Now you can change the font size of your list from the block settings. The new font size option is also available for the code block so that you can change your code's font size.
New system font for the block editor
The block editor got a new font. Previously, it used a Google Font (Noto Serif), but it now uses system fonts by default.
This change is done for a few reasons:
Performance issues improvements related to loading Google Fonts
Privacy issues associated with Google Fonts
A more modern design with a font that matches the rest of the WordPress admin dashboard
Button widths and vertical layouts
Now you can set widths in percentages for the button block. This new option is available from the Block settings panel in Width Settings. Just select a button and choose 25%, 50%, 75%, or 100%. Percentages refer to the parent container.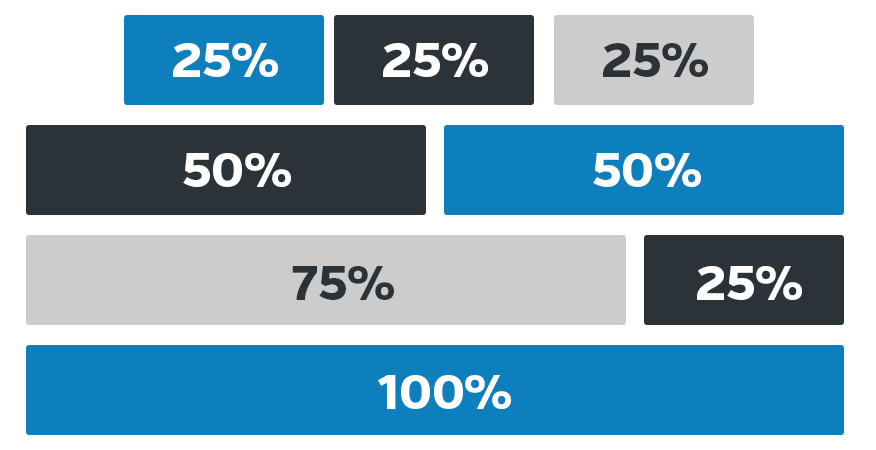 Switch from a horizontal layout to vertical buttons using the transformations switcher available in the block settings panel.
Spacer block now semi-transparent
As yet another improvement to the block editor's user interface, the spacer block now has a semi-transparent background rather than having an (opaque) grey background.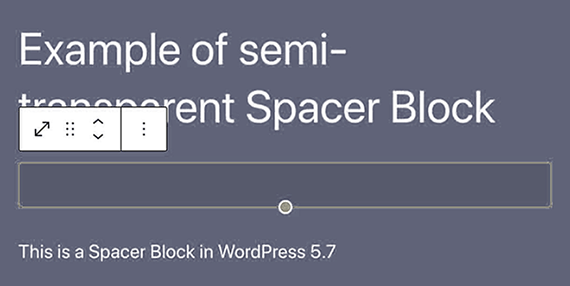 Improvements for upcoming Full-Site Editing
Behind the scenes in version 5.7, WordPress is paving the way for Full Site Editing (also called FSE). As outlined in the official WordPress roadmap, the WordPress core team focuses on merging Full Site Editing into WordPress, aiming to bring block editing to the entire site (think of the header, footer, etc.), not just posts and pages.
Under the hood
More happiness for WordPress developers.
New Robots API – WordPress 5.7 introduces a filter-based Robots API, providing more control over the robots meta tag. The new Robots API lets you include the filter directives in the robots meta tag, and the API includes the max-image-preview: large directive by default. That means search engines can show larger image previews, which can help to get more traffic to your website.
Import/Export Enhancements – In WordPress 5.7, import/export feature enhancements have been introduced that affect the WordPress built-in import/export feature:

New export specific filter for a post title
Ability to add the date each post was last modified in export files
Better performance for menu items imports

The final step in moving to jQuery 3.5.1 – with the release of WordPress 5.7, we're also at the third and final step of making the jump to jQuery 3.5.1.