When searching for a local business in Google you've probably seen Google listing one of their maps with pushpins indicating the locations of the business listed (just do a search for 'builders' with your city name and you'll see what I mean).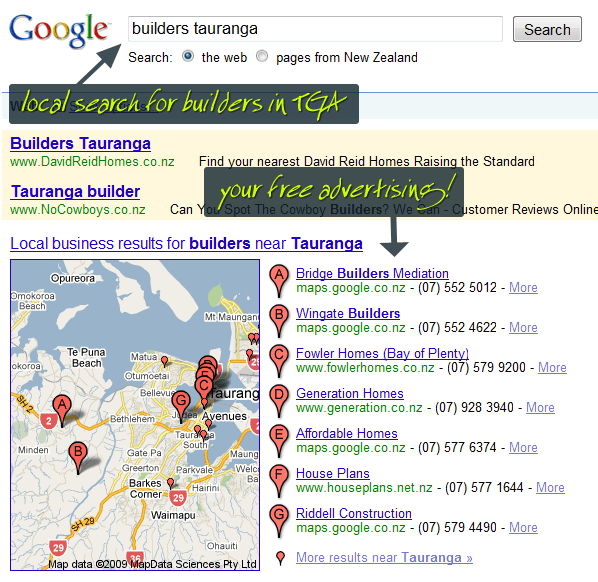 Just by adding your business details (you even can go as crazy as you like with creating coupons and displaying photos and videos ) to Google places gives you a way to advertise on Google for free. This will help your business/website show up in local searches and can help you get more traffic, leads and customers.
How to Get Your Free Advertising on Google
go to Google places
if you have a Gmail account you can log in with it. If you don't, just hit the 'sign up' link – don't worry it's free.
follow the steps provided by Google. They are pretty simple and straightforward. As part of the process, you will need to verify your business either by phone or mail. The fastest is verification by phone. It only takes a minute for Google to call. Just an automated message with a PIN number. Which you need to enter somewhere along the way. And that's it!
check back in a few weeks with Google and verify your listing.
if you want to update it, just log in again in 'Google Places' and update your listing.