With over 1+ billion members, Facebook is 2nd most trafficked site in the world, sitting only behind Google (in case you wondered how's #1). With stats like these, it's not a bad idea to set up a Facebook business page for marketing.
When set up and used properly, you can effectively use Facebook for your business. Let me first say, I'm not a 'Facebook Guru'. Far from that. But this guide will help you get started, learn some tips & tricks and will be updated regularly.
Note – all links in this guide will open in a new window/tab. Just so you know.
Setting up your Facebook business page
First of all make sure you're set a Facebook Business Page up for your business and not use your Personal Profile for your business.
What's the difference between Personal Profiles and Facebook Business pages?
Facebook Personal Profile – This is your personal account. The place where you connect with friends/family, check what they're up to in your news feed, post your thoughts, upload your drunk party pics, etc. Profiles are 2-way communication. When you 'friend' someone through your Profile, you see their updates in your news feed, and they see your updates in their news feed.
Facebook Business Page – This is a business account on Facebook. People have to click the 'Like' button to see your updates in their news feed. It's best to setup a business page under a Facebook profile. Although the Business Page will be "tied" to your personal profile, but they are completely separate. No one can see your personal information or even the name of the administrator of the Page. A Facebook Page is one-way. Someone who likes your Page will see your Page updates in their news feed, but you will not see their Profile updates in your news feed.
How to set up your Facebook Business Page
Wondering exactly how to get your Page started the right way?
To set up your Facebook Page, just follow these steps:
Login into Facebook
Select a main category for your business and choose your category from the drop-down menu.
The categories are not always perfect, but for the most part, they aren't critical.
Name your page. The name of your Page will be whatever you put into the box just under the Category menu. Spend some time thinking about your Page name carefully.
Add your what the page is about, add your website link and choose your unique Facebook URL.
Add your profile picture.
Add your Page to your favorites to easily access it anytime.
Set preferred page audience (location, age, gender, interest)
At this point, your Page is basically ready to go out into the world of Facebook.
Now it's time to get some likes on your Page!
Facebook page set up tips
How do I choose between "Local Business or Place" and "Company, Organization or Institute" for a new page type?
Choose Local Business or Place if people physically visit your location—for example a restaurant/cafe, concert venue, hospital, theater, museum, or art gallery. The Company, Organization or Institution Page is best if people don't visit your location, or if your events are always someplace different.
How to Get a Custom URL for Your Facebook Page
By default, a Facebook page's URL used to be made up of your page's name plus a long number.
 www.facebook.com/page/My-Facebook-Page/248406098344281.
If you want to market your page obviously not ideal. The good news is that you can create a custom URL (a so called vanity URL), like:
www.facebook.com/myfbpage
How to Change Your Facebook Page vanity URL
Picked the wrong vanity URL? No worries. You can change it easily. But remember you can only change it once. Here's a step-by-step to change your Facebook Page vanity URL
Images sizes
What is the size of the Timeline Cover Photo? What is the recommended upload size of a link thumbnail? How do the dimensions differ for an uploaded image depending upon whether it's on the Timeline, desktop News Feed, sidebar or mobile? It's all here in a handy infographic updated to the latest 2015 specs. Master Guide: All Facebook Image Dimensions and Ad Specs [2015]
Ever tried using photos or graphics on your Facebook page? It can be frustrating. So here's an up-to-date, unofficial guide to what's what, what's where, and how big. Another good write up about all Facebook image sizes. Facebook Photos Size Guide / 2014 New Layout
Make sure you'll optimize your profile photo
While your cover photo gives users who land on your Facebook page their first impression, it's your profile photo they'll see the most. Unless they visit your timeline again, all they'll see from you branding-wise is your profile photo on the news feed.
Your profile pic is more important than the cover photo because it appears in:
The news feed of your followers
Posts on your page's timeline
Replies in comments
Comments and posts you make on other pages while using your page
Over the cover photo on your timeline
Cover Photo Inspiration
Need some inspiration for your timeline cover photo? We've created an album Facebook Cover Photo Inspiration on our Facebook page showcasing some great cover photos.
If you need some more inspiration on how to improve your presence on Facebook, kissmetrics has collected 17 eCommerce businesses – big and small – that have a great presence on Facebook and explains what we can learn from each page.
You've just launched your post on your blog, so you share it on Facebook for the world to see. However, Facebook is displaying the wrong thumbnail, and it looks horrible!
Reasons why images display improperly
There are three main reasons why your images don't display properly when someone shares your post or page on Facebook.
Facebook can't find the image
Your image is too small
Facebook cached an older version of your page with a different image
How to Make Facebook Show Your CORRECT Post or Page Thumbnail
Design Hacks to Create Highly Shareable Social Media Graphics
Stop using so much text
Use high quality stock photography
Use a range of visual content
Tap into visual trends
Brand your graphics
Read more: about the five design hacks that will make your social media content engaging and sharable | socialmouths.com
---
2. How to get (more) Followers and (more) Engagement
We hand picked some of the best articles on how to get more followers and engagement.
How to Increase the Facebook Visibility of Your Local Business. In this article from Social Media Examiner you'll discover nine ways to use Facebook to get more local exposure for your business.
How to Drive More Facebook Traffic to Your Website in 5 Easy Steps – Would you like to drive more Facebook traffic to your website? Getting Facebook fans to your website (and then hopefully onto your email list) is even more critical with Facebook's recent announcement of decreased organic reach for pages. Use these five steps by socialmediaexaminer.com to help you get more traffic Facebook to your website
10 Steps to Your First 1000 Fans on Facebook – So you've been told to create a Facebook business page right? Apparently having a page will put your business on the map, you'll drive loads of leads to your website, blog, offers and make a ton of sales! Oh no, times have changed on Facebook.
8 Tips for Using Facebook Scheduled Posts – Facebook lets you schedule your updates. That's handy! So you can write a whole bunch of them at once, and just post each one at a time of your liking.
8 Timeline Tips for Your Brand – Eight great tips to improve your Timeline experience, and ensure that your clients and connections stick around.
Low Hanging Fruit of Social Media: 12 Quick Changes That Will Make Big Results – Here are some quick changes you can make to your profiles, pages, and activity that can make a big difference in results.
26 Ways to Engage Your Fans on Facebook – In this article, you'll find 26 tips, an A-Z guide, for engaging fans on Facebook.
---
3. Facebook Timeline Tips
Highlight your best posts
You'll see when published a post that you can choose to highlight the post. This means the post will cross over both columns, and be full width of the content area. Highlighted stories on your timeline will include a star banner.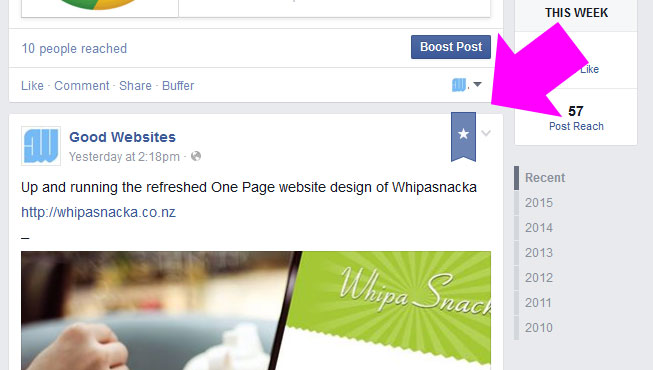 To highlight your favorite post, hover over the top right-hand side click the little drop down icon which appears and select the 'star' icon that says 'Highlight'.
Pin posts to the top
Another option to highlighting a post, is 'Pin to top', meaning it will sit at the top of your Timeline for the next 7 days, even if you post more content. This is a great method to draw attention to something timely, such as a sale or an event.
Use #Hashtags
Hashtags will be clickable on Facebook just like on every other social network (Twitter, Tumblr, or Pinterest). When you click on a hashtag in Facebook, you'll see a feed of what others are saying about that topic.
Three things you can do:
– search for a specific hashtag from your search bar.
– click on hashtags that originate on other services, such as Instagram.
– compose posts directly from the hashtag feed and search results.
So start #hashtagging your posts!
Emoticons
List of Emoticons for Facebook – Here is a complete list of all Facebook emoticons. All you have to do is copy and paste a symbol code beneath the emoticon's image
Are all my Facebook Updates shown to my Fans? Nop!
Facebook has an algorithm called Edgerank. With this algorithm Facebook decides what shows up on a person's NewsFeed. Edgerank looks at 3 key variables:
Affinity (Your relationship with the creator of the story)
Weight of a post (Highest weight is a photo/video post, lowest is a text update)
Time-Decay (Age of the post).
The higher the percentage of engaged users you have – fans who comment, share, or like your wall posts – the more Facebook will show your content to other people.
Check out this infographic to educate yourself on Facebook EdgeRank.