Managing your gallery in your WordPress website is a breeze. Here's the NextGen Gallery quick start guide.
Where is the gallery?


After login into the admin area, you find your gallery management on the left-hand side named 'Gallery'.
Definitions
Galleries – A collection of related images (e.g. project photos).
Albums – A collection of galleries.
Add Gallery
Before you can upload any images you need to create a gallery. Hit the 'Add Gallery/Images' link in the Gallery menu (left-hand side) and add your new gallery. Just think of a good name and click 'Add gallery'.
Adding Images
Once you've created a gallery you can add images to it.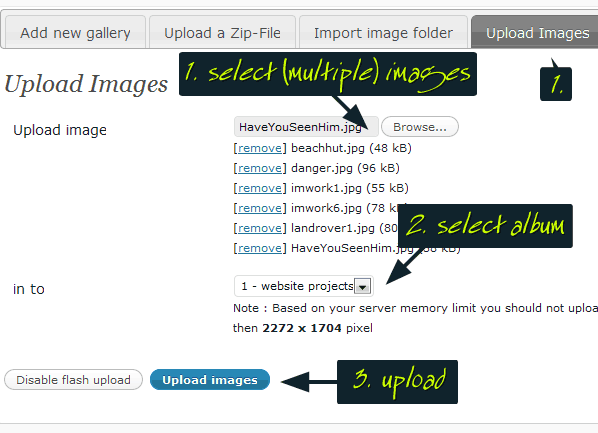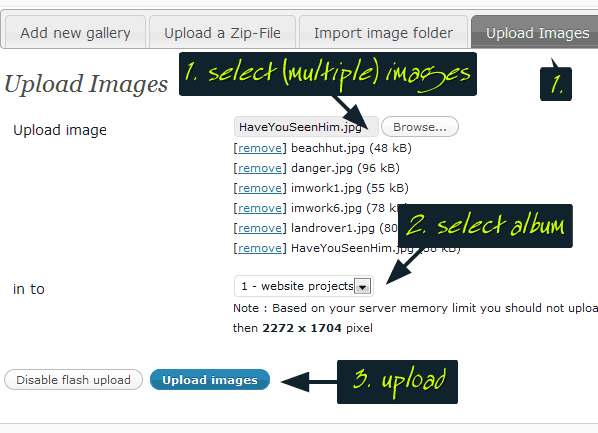 Upload images
Easiest is uploading images one (or more) at a time. This is done from the Upload Images tab (1). It's a 2-step process. First select the images you want to upload (hit the 'browse' button). Tip: you can keep adding images. Once selected all your images choose your gallery. And hit the 'Upload images' button. Sit back and let the plugin do its magical work… Once you get the all clear sign 'picture(s) successfully added' you're done.


Upload a Zip-file
Upload a zip file of images. This is done from the Upload a Zip-File tab (2). Same procedure, only select a zip file instead of single images.
Import image folder
Import a folder already on your website. Not relevant. Stick with the other two options…
Managing Images
Once you have images into a gallery, you can perform a number of different operations on them. Choose 'Manage Gallery' form the left-hand side menu and click the 'title' to open the gallery.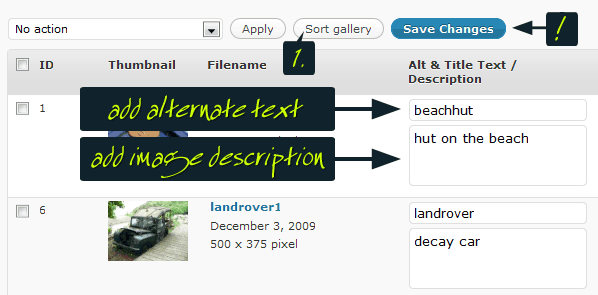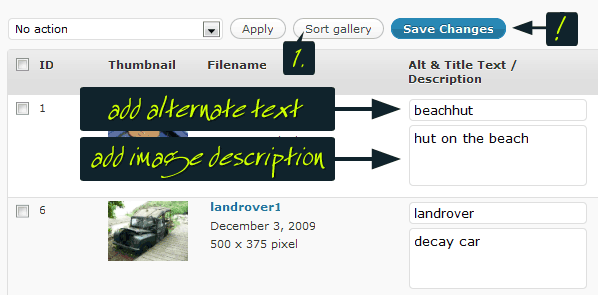 Here's a summary of the operations that can be performed on images on the Manage Gallery page.
Give each image an alternate & title text. The plugin will automatically fill this field with the image (file) name. It's good practice to add a descriptive (keyword) text here.
Give each image a description. Will be displayed under the pop up (lightbox) image.
Exclude images from being displayed on gallery pages.
Delete an image.
Set a watermark on selected images.
Specify tags for images. Not relevant.
Generate (create) new thumbnails for selected images. Not relevant.
Resize images. Not relevant.
Don't forget to 'Save Changes'.
Sort Gallery (1)
Simply drag-and-drop the thumbs to their new positions and (again) don't forget to hit 'Update Sort Order' when done.
Gallery settings
Here's a summary of the operations that can be performed on the Gallery Settings.
Edit the name and description of the gallery. Description is good to add when you're going to display albums (see further).
Edit the path (leave as it is).
Link the gallery to a page (leave 'Not Linked').
Specify a preview image that will be displayed when albums to which the gallery belongs are displayed.
Create a new page for displaying the gallery (leave as it is).
Albums
An album is a way of displaying a list of galleries.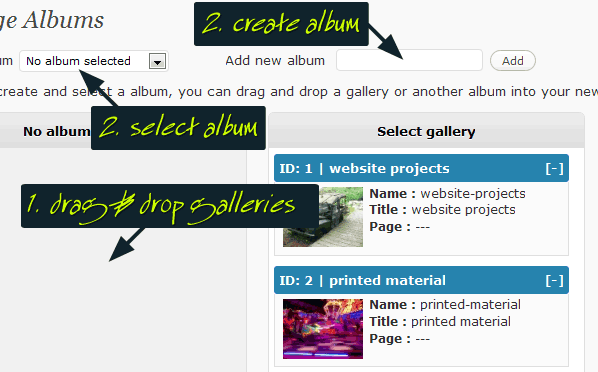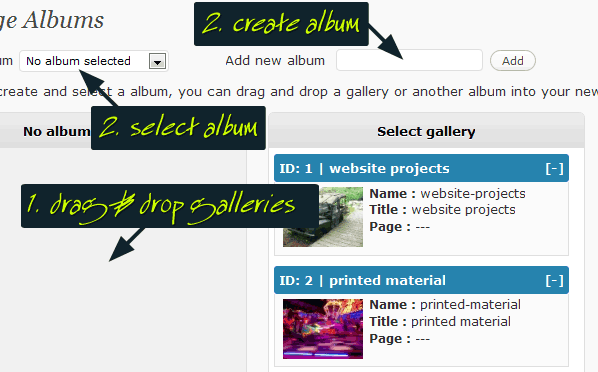 To create an album:
Choose 'Album' from the left-hand side Gallery menu.
Type the name of your new album.
Click the Update button.
Once you've created an album, you can drag galleries from the 'Select Gallery' box to the Album Page box. You can also rearrange galleries in the album by dragging and dropping.
Inserting Galleries, Albums and Images into Posts/Pages
While on the edit page/post page you'll have a handy icon on the toolbar 'Add NextGEN Gallery'.


Selecting that gives you the option to insert a Gallery, Album or a (single) Picture.
Insert Gallery
Select your gallery. Choose 'Image list' or 'Imagebrowser'.
(Slideshow needs some special settings and coding and is disabled by default).
Image list displays all images as thumbs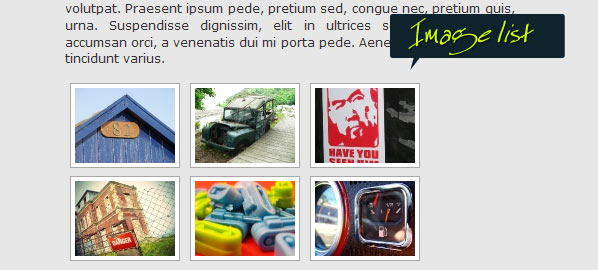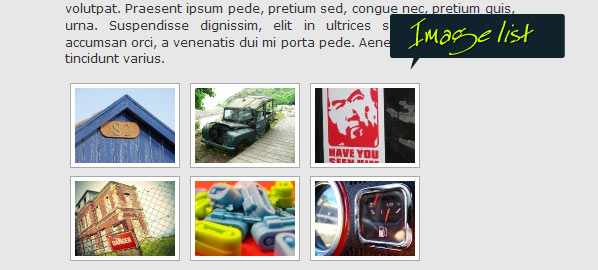 Imagebrowser displays one (large format) image at a time and scrolls through the gallery with the 'back' and 'next' buttons. No fancy lightbox with this one.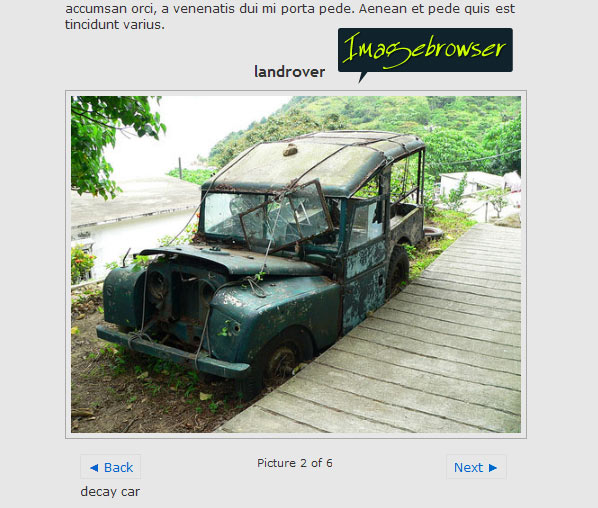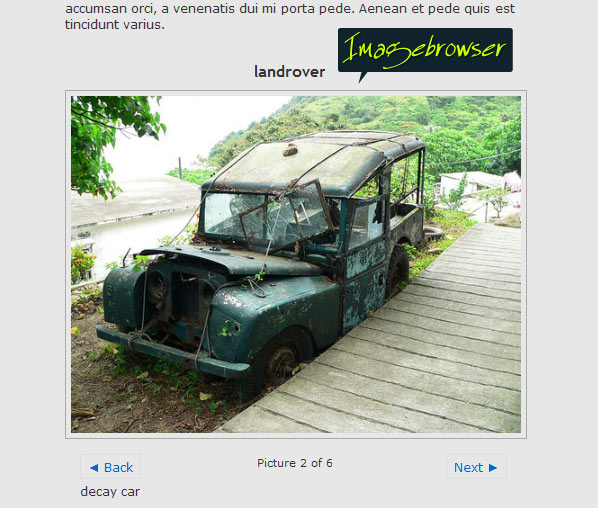 Insert Album
Remember an album is a collection of Galleries. Select your album. Choose 'Extended version' or 'Compact version'.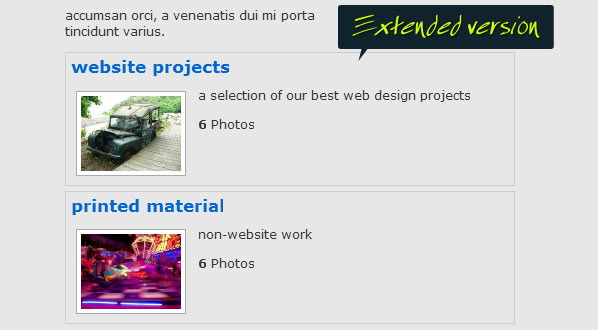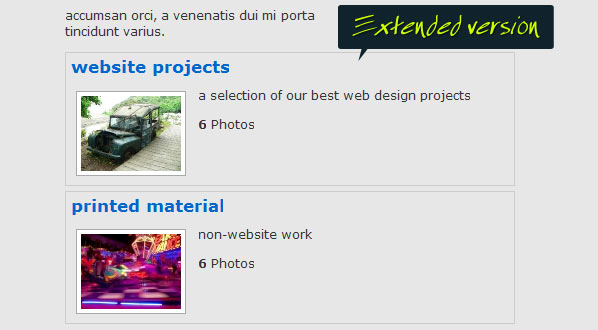 Insert Picture
Only if you want to insert a single picture with a lightbox effect. Otherwise stick to the normal procedure for inserting images into posts and pages.
This Quick Start Guide is written for WordPress websites developed by Good Websites. For additional settings please check the
plugin homepage
or leave a comment below.