Quick start guide on managing your ads on your WordPress website using the wp125 plugin.
Where do I manage my ads?
After login into the admin area, you'll find your ads management on the bottom left-hand side named 'Ads'.


How to upload an ad
Before managing an ad we need to upload 'm to the server.
(1) Head over to Media > Add New. Select the ad form your computer location (select files).


Tip! try to name the ads with a recognisable name, like 'ad_imagename'. This will make managing/searching the ads later down the track much easier.
(2) Copy the 'File URL'. Important! Don't forget to hit 'Save all changes'.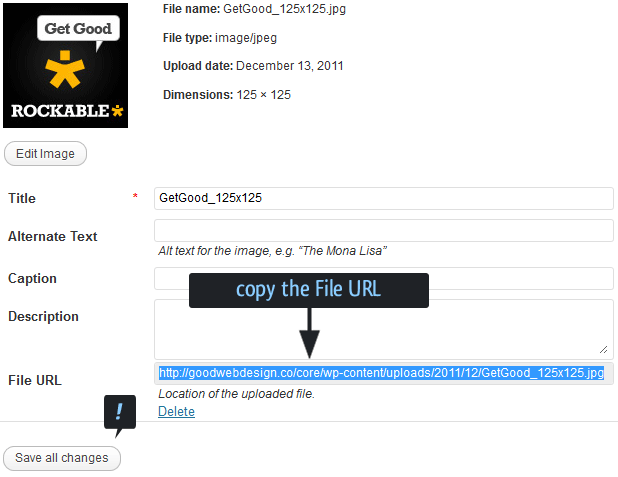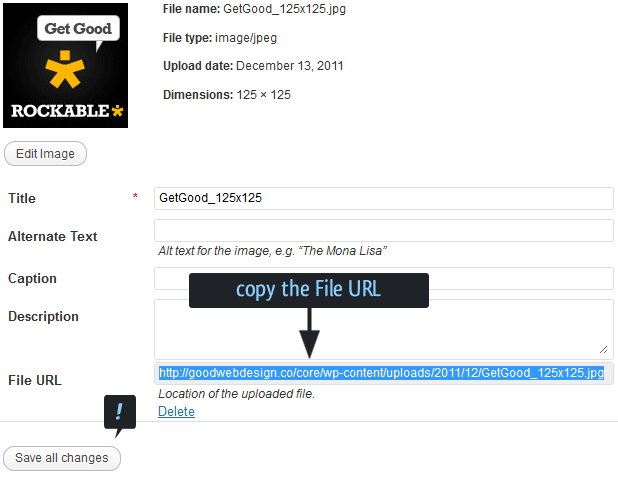 (3) Select 'Add/Edit' from the ads menu


(4) Paste the file URL in the 'ad image' field [1] and fill out the other fields [2-6]. Most fields are pretty self explanatory. The slot position [5] is depending on the website design. Finally hit 'Save Ad' [7]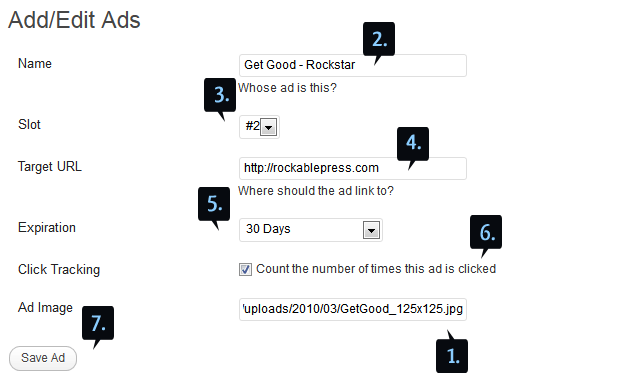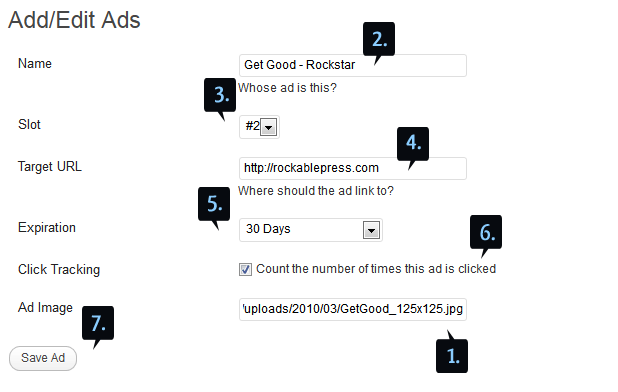 FAQs
what are the dimensions for the ads? – officially built for the popular 125×125 ads the ad dimension can be anything. Ask your designer or check your website style sheet.
how many ads can I display? – as many ads as you want, and in either manual or random order although the amount of slots are defined by the website design.
can I track the amount of clicks on the ads? – yep. By default click tracking is on.
how long do the ads run? – depends on your Expiration setting; 30 days – 120 days, remove manually or other (custom date). The ad will be automatically taken down when the time comes.
one of my ads hit it's expiration date. Where did it go? – when an ad's time duration is over, it disappears off your site, and is moved from the Active ads to Inactive ads. To access the ad again, simply click the "Inactive Ads" link on the Manage screen. The page should update to show all of your inactive ads.
what if I don't want an ad to be taken down automatically? – simply select "I'll remove it manually" for the expiration date when creating the ad. Or for existing ad, change the Expiration setting to 00/00/0000 for manual removal.
what happens with empty slots? – a placeholder ad will be displayed. This could be a "Your Ad Here" linking to a page with statistics and pricing, or an affiliate link.
can I get a notification when an ad expires? – yup. Email notifications are set up 5 days before expiration. Useful if you send follow-up messages to advertisers, or if you just want to stay in the know.


This Quick Start Guide is written for
WordPress websites
developed by Good Websites. For additional settings please check the
plugin homepage
or leave a comment below.